New Mobile Website Launched by Omega Rental Cars New Zealand
New Mobile Website Launched by Omega Rental Cars New Zealand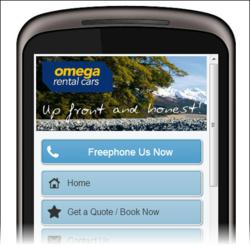 Auckland, New Zealand (PRWEB) December 04, 2012
In response to consumer demand (visits to the Omega website from a mobile device are up 200% compared with last year), Omega Rental Cars NZ has just launched its new mobile website. Customers can now browse the Omega Rental Cars website from any hand held mobile device, thanks to a mobile web design that has been optimised to suit this smaller browsing window.
It has become essential to have a mobile website, says Omega Rental Cars CEO Simon Sceats. Around 15% of our web visitors are currently using a hand-held device and that number is growing all the time. We will be watching with interest for the day that smartphones like the iPhone or Samsung Galaxy become more popular than desktop and laptop computers for web browsing and bookings.
The Omega Rental Cars mobile site is fully synchronised with the standard site, so customers will always be viewing the very latest information and hottest rental car deals in New Zealand, no matter what their technological preference. And for those customers who still prefer the personal touch, Omega has Freephone numbers in both NZ and Australia.
Omega Rental Cars is a privately owned company and has been operating their New Zealand car hire services since 1992. They have built a loyal following based on the provision of modern reliable vehicles at an affordable price and an up front and honest approach to customer service. They have city and airport branches in Auckland, Wellington, Christchurch, Queenstown, Picton and Nelson.






http://www.prweb.com/releases/2012/12/prweb10199916.htm